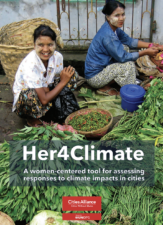 Women and girls are among the most affected by climate change, yet lacking data often result in gender-blind local climate action and policies. Her4Climate is centred on the knowledge and capacities of women in urban areas. The participatory tool provides a framework for assessing women's exposure, sensitivity and capacity to respond to climate change in cities in 3 dimensions: (1) Health and Wellbeing, (2) Built and Natural Environments, (3) Governance and Decision-making, and aims at promoting their participation and agency in the design and management of urban climate adaptation initiatives and plans.
Sector(s):
Urban Planning, Energy, Transportation, Water and Sanitation, Food Systems, Health, Buildings
Lifecycle Phase(s):
Enabling EnvironmentConditions that enable the integration of sustainability practices (regulation, laws, frameworks etc.)., Strategic PlanningPublic authorities identify the needs and long-term vision for infrastructure development., PrioritizationAuthorities decide which projects to realize and how to allocate resources., Project PlanningGeneral strategy for a project's delivery is developed., Concept DesignTechnical experts broadly outline the project's basic characteristics.
Type(s) of Tool:
Project Preparation ToolsHelp public authorities manage sustainable project preparation processes., Impact AssessmentsEvaluate the impacts of assets or policies on the environment and local livelihoods.